There have been many changes in recent years in the chimney sweeping industry. Historically chimney sweeps have been completely unregulated and the customer has been playing roulette with their choice of a sweep.
Recently a person died form carbon monoxide poisoning after commissioning a cowboy chimney sweep to sweep their chimney. He followed no protocol that would be accepted, did not perform a smoke evacuation test and did not complete vital safety checks.
In an attempt to safeguard the consumer and raise professional standards Sweep Safe was formed. Members of the organisation have to pass a minimum experience criteria and an extensive onsite assessment along with a myriad of checks.
This Standard set out by Sweepsafe also ensures that vital checks including those for smoke evacuation, ventilation and fire safety are carried out. Furthermore the standard sets a minimum requirement on re-training and basic equipment. This standard also ensures that potentially dangerous appliances and chimneys are condemned with a warning notice and a warning label attached.
An approved sweeping certificate must be issued following each sweep
So in short if you want a chimney sweep who you know meets this standard please do not be afraid to ask them if the are a member of Sweep Safe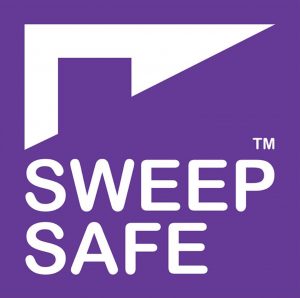 look for the logo-get the certificate.