Call us today 0800 0434 737
BIOMASS MAINTAINANCE AND SERVICING
Biomass installations require regular specialised servicing which must only be carried out by special trained engineers with the appropriate experience and equipment.
The engineers at Clean Sweep Chimney Services are trained and equipped to service and install most Biomass installations.
We offer a specialist Chimney and flue sweeping and a consultation service for both domestic and commercial biomass installations.
We are able to Sweep, service and advise on:
Wood Gasification boilers
Pellet systems
Woodchip systems
Traditional stoves with boiler units
Traditional wood stoves
The integration of these system with existing systems, water storage systems and other renewables such as solar thermal
System sizing and placement
Specialist equipment must be used when servicing these appliances. For example a flue gas analyser used to measure the C0 content of gas may be able to read up to 1000ppm but measurement of up to 100,000ppm may have to be measured with solid fuel biomass boilers making most flue gas analysers unsuitable.
Accurate flue draught measurements must also be taken and documented when servicing a biomass installation
Specialist equipment utilised for biomass servicing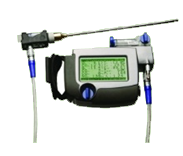 The Wohler Flue gas analyser that we use is capable of reading C0 and other gasses up to 100,000 ppm and printing a result for the customer.