Chimney Sweeping through the generations
As you may or may not be aware our company is lucky in the sense we have been in this trade for over half a century over four generations. So I was sitting talking to my grandfather John William Hodgson, now in his 70's talking about the chimney sweeps of yesteryear. I often write educational pieces but this is more a bit of fun and is certainly lighter hearted. Unfortunately my great grandfather John Hodgson senior is not here anymore to reminisce the stories of the past, he started sweeping in the 60's and was a coal miner for many years prior taking up sweeping as a way to escape the pits in Blyth near Newcastle where he was born.
Grand father Hodgson started full time chimney sweeping in 1979 where he started with cane rods and a standard 16" stiff brush for sweeping coal burning open fires. Here is an example of some pictured below.
Cane chimney rods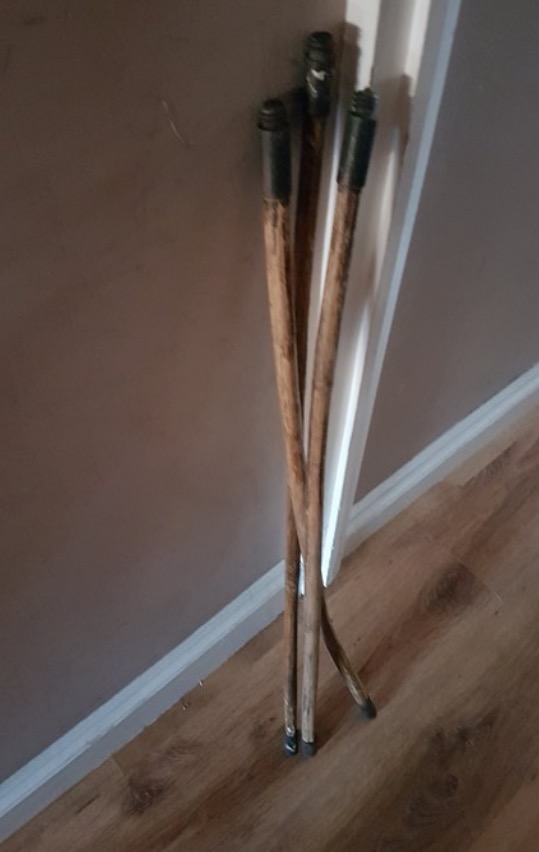 now and again he had to hit his rods with a hammer to loosen them as the brass Ferrell seize together, eventually he changed to baileys blue polypropylene three foot, screw thread much like what are available today, most of us use button lock rods of some description or a viper but the process is still similar for traditional sweeping.
Grand father Hodgson bought his first industrial vacuum cleaner in 1979 unfortunately I don't know the model so I cannot a produce picture, if you were to make the comparison with a modern vacuum then I'm sure a Henry would be way more powerful. When sweeping granddad used to use standard cotton twill dust sheets much like today and neoprene matts from Dungeness power station and he cut a piece of board with a foam backing to wedge against fireplace openings and used a piece of lagging cloth (which we now know contains asbestos) as a soot nose to feed his rods through. Grandad had a local round for weekdays which was the Thurrock area of Essex and ventured out to to sweep chimneys of Hampstead and North London at the weekends. Grandfather Hodgson also was a regular attendee at weddings where he would wear his top hat, boiler soot and a pair of white gloves he would also soot his face and wear tails for a more traditional look.
We of course know now that soot is a carcinogen but it was normal then to put the soot on your crops to keep the slugs away and to fertilise as its high in nitrates that kinda makes sense. Most of his wast soot was given to a local allotment in those days who couldn't get enough of the black stuff in exchange for vegetables. Grand father talks of a friend who used his coal soot to brush his teeth!! Ironically Carbon based toothpaste is a new expensive trend today
In those days when he started out dust masks were a rarity not afforded to chimney Sweeps like him and fine filters p3 masks didn't exist. There was no such thing as health and safety if compared with today and certainly no such thing as a H rated hazvac.
Coalpaste!
Grand father Hodgson got his first top hat from West and Co funeral directors, he swept two chimneys for them and they gave him a top hat as payment I think that's a fair swap. His most memorable job was from a windmill in Orsett village an elderly chap lived there, maybe in his mid-80s. He used to hang hams in his kitchen and burn tarry wood to smoke them. When grandad came out to sweep the chimney he said the tar in the flue was smooth like black glass and the flue was constricted to 2", he spent the next 3-4 hours chopping the tar out with a hammer and chisel to clear it.
Grand father Hodgson stopped chimney sweeping in 1993 and at that time my father Daniel Hodgson had taken over much of his round and was running the company which was then Called Clean Sweep Chimney Services. My father is also a past chairman of the Guild of Master Chimney Sweeps and was formerly the Guilds technical director writing much of the training material which is still used today. More recently he founded Sweep Safe.
In 2010 I started as a full time chimney sweep, in 2012 I qualified as the UKs youngest master chimney sweep through the Guild of Master Chimney Sweeps after many training courses. I have loved the job ever since I started.
Our family history over four generations is the reason that we are rebranding Clean Sweep Chimney Services to our Family name of Hodgson's Chimney Sweeps. We are a proud family with a genuine heritage and our current brand Clean Sweep which has been used and copied by many since our inception doesn't reflect this.
We have old links with the city of London and on my Grand mothers side many of her relations were pearly kings and Queens of the East end a great uncle still is. In the coming weeks we are branching out the company into the south west of the country setting up Hodgson's Chimney Sweeps Devon, this will be an exciting new chapter in our company and families history we will bring our expertise experience and our very high standards to a new market and new experiences.
Thank you for reading and following.
Danny Hodgson
The Hodgson family chimney Sweeps today