About Us

Many years after its humble beginnings Clean Sweep has blossomed into London`s premier chimney sweeping company.
We have several important principles that we have always stuck too: Integrity, value, professionalism, Family and our customers make the foundation for these principles.
Chimney Sweeping is one of the oldest professions however techniques and equipment have changed very much in the last 5 years alone and our company is always ahead of the pack when it comes to innovation. For example Clean sweep chimney services is one of only 2 chimney sweeping companies serving London which has the equipment and training to perform the machine BSEN 1443 leakage test. Most companies still test with smoke to the outmoded and biased BS 6461 standard
At Clean Sweep, we do not sub work out to third party contractors and all work will be carried out in house by a fully certified, insured and highly trained Members of the Guild of Master Chimney Sweeps
We are capable and equipped to sweep and test many different types of chimney from the smallest of bungalows with an open fire or stove, right up to one hundred and fifty feet commercial chimneys and everything in between.
Our work spectrum covers: Home owners, Landlords, tenants, architects, designers, Commercial premises such as pizzerias and coffee roasting houses, small, medium and large Biomass installations, schools and libraries, stately homes and castles. We specialise in local authority and contract works.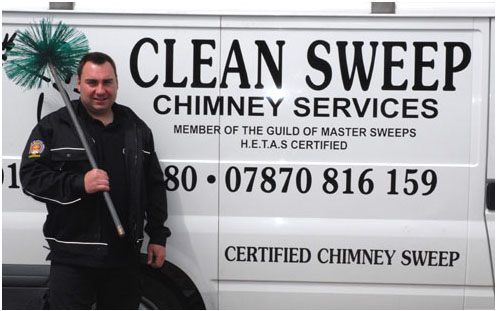 If any questions may arise from anything in the text in this website or you would like to make a booking then please feel free to contact us, and your questions will be answered by our experienced office staff who will be more than happy to help.
Please look at our full trading terms and conditions
Clean Sweep Chimney Sweeps is owned and run by the current Chairman and Master Member of The Guild of Master Chimney Sweeps and this alone ensures standards are extremely high.
We accept all major debit and credit cards